Frequently Asked Questions
Frequently Asked Questions
Wish to learn more about HAIBB and the service we offer? The following answers to most commonly asked questions may help.
What are Blood Bikes?
Blood Bikes are volunteer-run motorcycle or vehicle-based courier services that transport essential medical items such as blood samples, medical samples, and medications between hospitals, healthcare facilities, and other locations as needed.
Who operates Highland and Islands Blood Bike services?
Highland and Islands Blood Bike (HAIBB) are run by a dedicated teams of volunteers who give their time and sometimes use their own vehicles to provide this vital service. These volunteers come from various backgrounds and share a passion for supporting the healthcare system.
How do Blood Bikes help the healthcare system?
Blood Bikes play a crucial role in the healthcare system by ensuring the rapid and secure delivery of urgent medical supplies. They help hospitals and healthcare facilities avoid delays in receiving important items, enabling faster diagnoses, treatment, and ultimately saving lives.
What types of items do Blood Bikes transport?
Blood Bikes transport a range of medical items, including blood and blood products, tissue samples, test results, organs for transplant, and emergency medications. Their primary focus is on time-sensitive and critical deliveries that require swift and secure transportation.
Are Blood Bikes affiliated with the healthcare system?
Blood Bike groups typically work in close collaboration with local hospitals, healthcare providers, and as HAIBB is part of a national associations we can work with other members to relay urgent samples across the country. We all have established partnerships and protocols to ensure seamless integration into the healthcare system and adhere to the necessary regulations and safety standards.
How are Blood Bike services funded?
Like most Blood Bike services we rely on donations, sponsorships, and fundraising efforts to cover operational costs. The generosity of individuals, businesses, and community organisations is essential in supporting our volunteer-run services and ensuring their sustainability.
Can anyone volunteer for Blood Bike services?
Yes, HAIBB welcome volunteers who are passionate about their cause and meet certain criteria. Requirements may vary according to the role, but typically volunteers need to be 18 years or older, if intending to drive or ride an advanced qualification is required, and the willingness to undergo any necessary training.
How can I support Highlands and Islands Blood Bikes?
There are several ways to support HAIBB. You can make a donation to help cover our operational expenses, offer sponsorship or fundraising assistance, or even consider becoming a volunteer if you meet the requirements. Spreading awareness about their valuable work within your community also helps generate support.

What area does Highlands and Islands Blood Bikes cover?
Although many runs are local across the Highlands we can make runs across Scotland and beyond. A full description of the areas we cover can be found here: https://www.haibloodbikes.co.uk/areas-we-cover/
Do the volunteers receive any remuneration or reimbursements?
No, all of our volunteers, including the committee give their time for free.
How far will you travel on a call out?
Most of our journeys tend to be between Highland hospitals, so typically anything averaging between 80 and 200 miles. However, we can and do go further if necessary. Where we need to transfer items across the country, for example to deliver samples to Glasgow, Edinburgh or further for analysis. We generally liaise with blood bike groups in other areas to quickly relay to where it's needed.
Do you do public presentations?
Yes, we do. If you would like somebody to come and explain more about Highlands and Islands Blood Bikes and what we do (and how and why we do it) – we are always pleased to provide speakers for your club, group or event.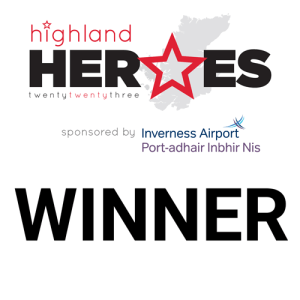 Want to join the team?
Do you have skills and/or some free time you can offer? We are continually looking for new people to bring their skills to help us and we only ask for the time you can give. Contact us to discuss how you may be able to help.