Average Weekly # Journeys
Previous 12 months Statistics (to October 2023)
Highland and Islands Blood Bikes is a registered charity (SC049345) in the Scottish Highlands whose sole purpose is to courier vital medical supplies and samples free of charge for the NHS. Our main base is in Inverness along with 3 smaller bases in Wick, Fort William and Oban.
With no funding from the Government or NHS we rely solely on donations and grants, everyone in the Charity are unpaid volunteers so 100% of the money received goes to running our service.
Highland and Island Blood Bikes (HAIBB) was set up in March 2019 by a few motorcyclists looking to help the NHS save money by offering a 100% free service to compliment their existing needs. Within 3 months HAIBB were a fully registered charity and within 12 months were fully operational 7 days a week.
Since then the charity has gone from strength to strength. We started with 2 motorbikes on loan from another Blood Bike group and we now boast a growing fleet of 6 Motorbikes a van and 1 car.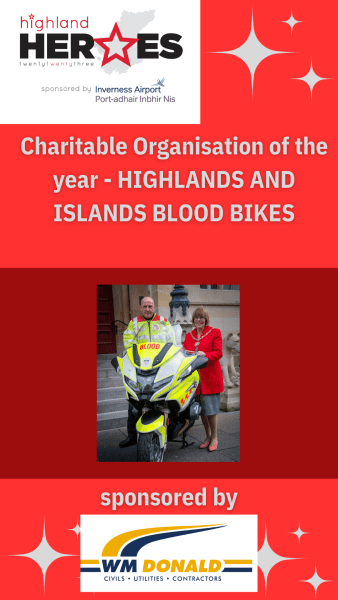 Award Winning service
Highland and Islands Blood Bike service was recognised in the 2023 Highland Heroes Awards. Amongst some very worthy charities HAIBB was chosen as the winner of the Charitable organisation of the Year.
Living in the Highlands of Scotland and having to transport infrequent very urgent specimens to other Boards for testing, including Lothian, Grampian and Greater Glasgow, we often come up against logistical challenges.  In these times the Blood bikers have been invaluable.  They have come to our rescue multiple times and each time have been so pleasant and supportive with clear communication and provide a solid back up to our standard courier services.  The volunteer work they provide for the NHS is overwhelmingly generous and we couldn't continue to provide a high-quality service to the Scottish Public without them.